Spinal Decompression Therapy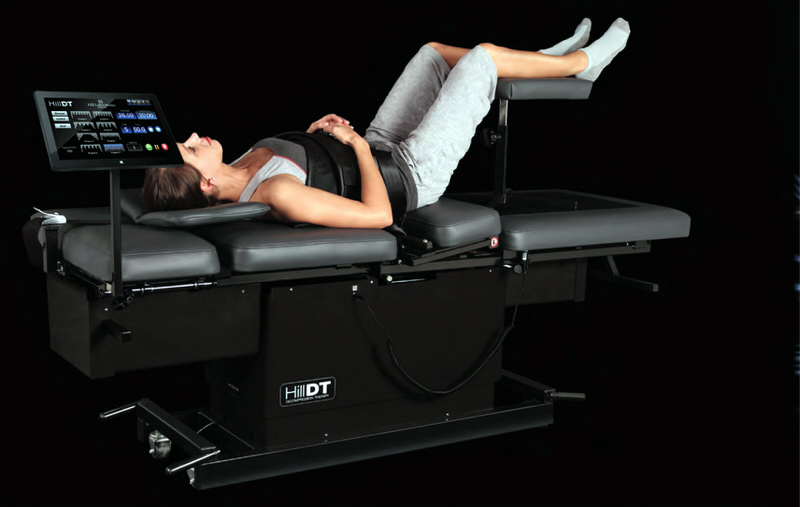 Non-Surgical Spinal Decompression is a comprehensive non-invasive treatment program for patients who suffer from neck and back problems.
A decompression treatment slowly and gently lengthens and releases pressure from the spine through a customized oscillating motion of the spine. The table pulls and releases to create a pressure change within the disc, surrounding soft tissue, and joints. This pressure difference allows the disc bulge ("slipped disc"), and also fluid and nutrients, to be pulled back into the disc. This results in rehydration of the disc and surrounding structures, reduction of the disc bulge, and stabilization of the spine.
How Spinal Decompression Works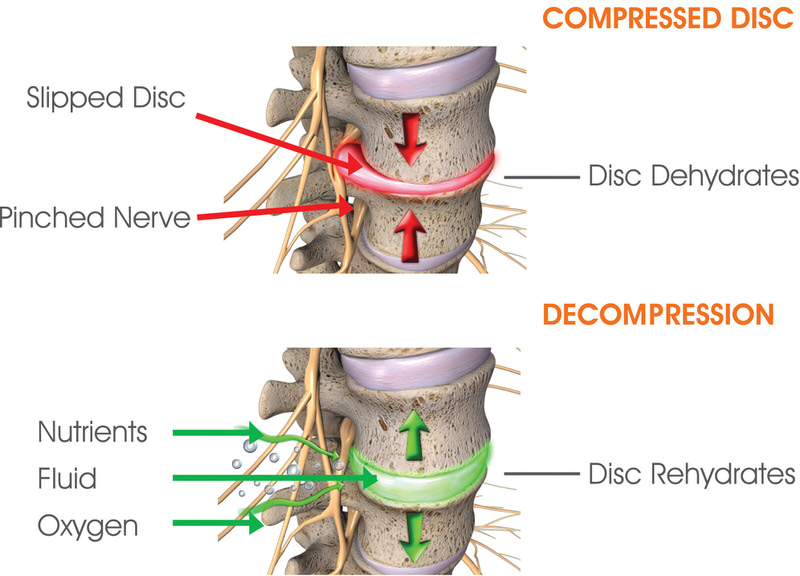 Through logarithmic stretch and release protocols, decompression creates a negative pressure in the disc over time. This vacuum effect draws nutrients, oxygen, fluid, and herniated disc material back into the disc.
The Spinal Decompression Treatment Program is a comprehensive program to create lasting results. Patients typically experience significant improvements within 15-25 treatments. Research also suggests that continued improvements is seen up to four years following the decompression treatment program.
The Hill DT Difference
The Hill DT table employs sophisticated load sensor technology which constantly measures and monitors the treatment force and patient-resistance of every treatment. At a rate of over 10,000 pulses per millimeter, the Hill DT actually senses the patient's approaching threshold and reduces the pull. This means that the Hill DT provides low-force, smooth decompression in a completely different class from cable-based systems. It also means dramatically better outcomes because the patient experiences far less muscle-guarding—a common problem with other designs. In most cases using the HIll DT, the patient is able to painlessly leave the table within seconds and with very little soreness to follow.
5 Reasons To Consider Non-Surgical Spinal Decompression:
Bulging or Slipped Discs
Disc and Spinal Degeneration
Facet Syndrome
Failed Back Surgery
Ongoing lower back or neck pain that is not responding to traditional spinal treatments by doctors or physiotherapy
There is hope for lasting relief.
---
Scientific Research Proves that decompression works
Orthopaedic Technology Review (2003; 6 (5))
Surgical Alternatives: Spinal Decompression
CONCLUSION: 86% of the 219 patients who completed the therapy reported immediate resolution of symptoms, while 84% remained pain-free 90 days post-treatment. Physical examination findings showed improvement in 92% of the 219 patients, and remained intact in 89% of these patients 90 days after treatment. It was shown to be effective for herniated and degenerative discs.
Journal of Neurologic Research (vol. 29, No. 3, March 2003)
Efficacy of Vertebral Axial Decompression on Chronic Low Back Pain.
CONCLUSION: This 144 patient study showed 76% achieved remission of pain. Except in emergent conditions, Vertebral Axial Decompression should be used on all conditions before surgery is undertaken.
American Journal of Pain Management (Vol. 7, No.2, April 1997)
Decompression, Reduction, and Stabilization of the Lumbar Spine: A Cost Effective Treatment.
CONCLUSION: Eighty six percent of herniated intervertebral disc patients achieved 'good' (50-89% improvement) to 'excellent' (90-100% improvement) results with decompression. Sciatica and back pain were relieved. Facet arthrosis patients, 75% obtained 'good' to 'excellent' results with decompression.
---
Decompression Therapy has lasting results
Anesthesiology News, (Vol. 29, No.3, March 2003)
Vertebral Axial Decompression Reduces Chornic Discogenic Low Back Pain – 4 years study.
CONCLUSION: Four year follow-up after Decompression method shows a sustained 86% reduction in pain and that 91% of patients had resumed their normal activities and has remained pain free.
Archives of Physical Medicine and Rehabilitation Medicine February 2008
Protocols for Patients with Activity – Limiting Low Back Pain A total of 296 patients with low back pain and evidence of a degenerative and or herniated disc at 1 or more levels were in this study. 8 weeks course of treatment consisting of 5, 30 minutes sessions of Decompression Therapy per week for 4 weeks and 1, 30 minutes session for a week for 4 additional weeks.
CONCLUSION: Patients showed continued statistical improvement in both pain scores and functional movement scores after their treatment programs were completed for 180 days post-treatment.